April 2019
In this issue
Ribbon rocking chairs at Art Brussels
Rietveld Love Seat
New edition of Weight & see mirror
---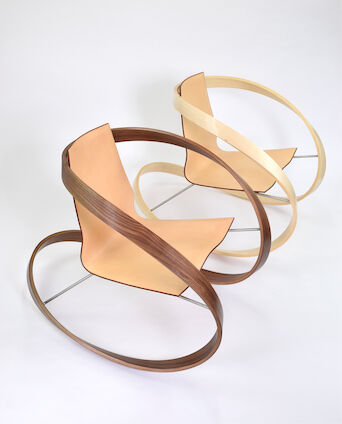 Ribbon Rocking Chairs at Art Brussels
The New Art Centre, Roche Court, have taken a pair of Ribbon Rocking Chairs to Art Brussels. They will be in good company; New Art Centre are also showing works by Barbara Hepworth, Henry Moore and Anthony Caro on their stands B.22 and A.23.
Art Brussels runs from Thursday 25th to Sunday 28th April. Full details can be found at www.artbrussels.com.
---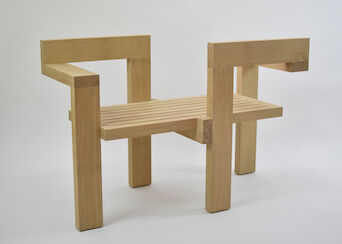 Rietveld Love Seat
The Rietveld Love seat was designed in response to seeing his Steltman chair at the Stedelijk Museum in Amsterdam. It is the centenary year of the Bauhaus which was set up in 1919 and so a timely celebration to that as well - Walter Gropius invited Rietveld to exhibit there in 1923!
The technical details of the Steltman chair are readily available on line but my Love Seat is actually 10% larger in all dimensions than the original. I have increased the width of the seat and linked the two ends so that they are self supporting and no longer need the addition of the rather awkward 'stabiliser' foot. The piece has also been adapted for outside use as well as inside, with the slatted seat and pegged joints.
---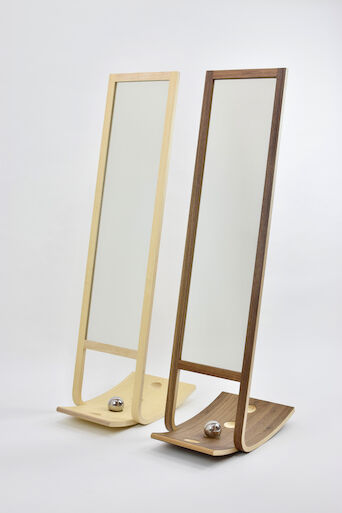 Weight & see
I have been working with Matthew Burt on a new wider edition of the Weight & see mirror. It is now 350mm. Along with the ash, it is now available in a combination of birch and walnut.
More details on katiewalkerfurniture.com

Earlier news
More than just beautifully crafted contemporary furniture - hand made with love in the UK
Collectible, classic design with an iconic modern feel