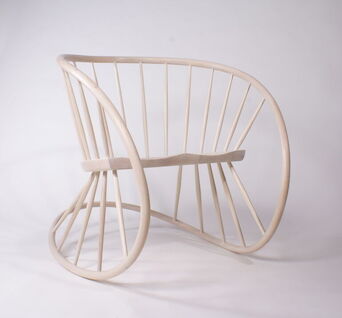 Windsor rocker

Ash - £3,000 including VAT
Oak - £3,000 including VAT
Walnut - £3,000 including VAT
720mm wide x 1020mm deep x 810mm high (28¼" x 40¼" x 32")
The Windsor rocker is a contemporary wooden rocking chair with its roots firmly planted in the traditions of Windsor chair making. Derived from the Ribbon rocking chair it is both inspired by and extends the possibilities of these traditional chair making techniques. The band which forms the rocker and the chair's frame stretches the limitations of the process of steam bending whilst giving the chair its unique form. The twenty five spindles flare out from the carved solid seat to the band such that their opposing angles produce an extremely rigid but light form. It is a truly contemporary chair but it echoes the original wheelwright's craft from which the Windsor chair is derived. As collectible as it is comfortable, it is beautifully hand crafted in the UK from locally sourced sustainable wood and finished with a natural oil.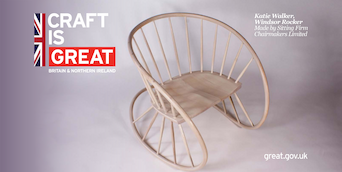 This piece was awarded The Furniture Makers' Company, Design Guild Mark no. 101 and the 2011 Wood Awards - furniture award.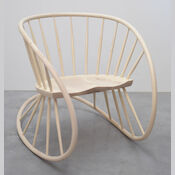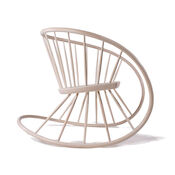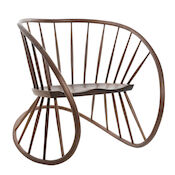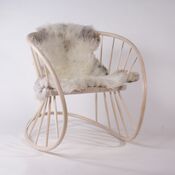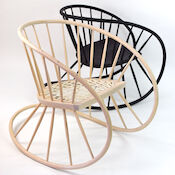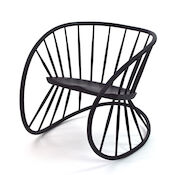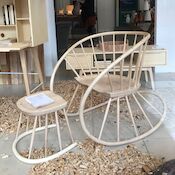 Place an order
If you would like to purchase a Windsor rocker then either telephone +44 7747 615323 during UK working hours or complete the following form and we will contact you to discuss your options and delivery within 3 working days.
Galleries and collaborators