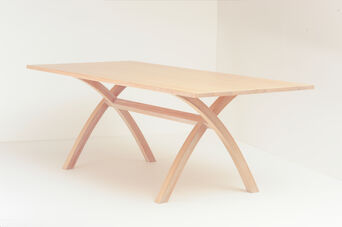 Beam table

Price on request
2000mm long x 950mm wide x 740mm high (78¾" x 37½" x 29") or to your specification.
A dining table made in oak with a white oil finish. This is the first piece in the Beam range, inspired by traditional cross legged refectory style tables. Separating the legs with a structure that relies on the central beam to both hold the inner legs and connect the inner legs with the outer legs gives a lighter more playful feel.
Also in the Beam range are the Beam console and Beam bench.
Also available in other woods, sizes and finishes on request.
The Beam table is made to order. If you would like more information or to place an order then please contact us. Click here.